To be happy in this world, first you need a cell phone and then you need an airplane. ...
... Then you're truly wireless.
Ted Turner
TAPP: Throw A Paper Plane .... to the world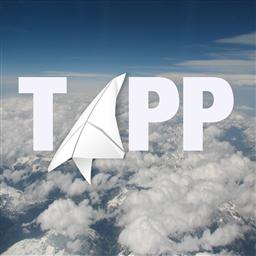 Let's TAPP, let's connect with people from all over the world.....


Throw A Paper Plane is a new social network game with fast growing user community since its release. Get it today so you can get connected too!

Write any message on your plane and throw it in the direction of your choice with the touch of your finger.
See where your plane has landed.
Tap on any plane in your neighbourhood.
Rethrow any plane you pick up and add a message.
Add pictures to your message, taken directly or selected from your photo album.
You can keep track of your plane anytime. Follow your plane's route around the globe.
Uses your actual location on map.
Check back from time to time to see where your planes are currently located.
Take a plane, write down your story: be it joy or sorrow, plain or euphoria. Throw it into cyberspace. You might get a reply.
Features
The following features are included in TAPP 1.6:
Throw paper planes with messages and photos in any direction, and let your plane fly around the world
Search for planes all over the world, and open them if they are within range of your current position
Add messages, photos, drawings and videos to the planes you find
Trace the planes that you have thrown away
No adds (or someone must have thrown a plane with a commercial message)
TAPP is device-based, so an account to login is not needed
Push notifications when your plane(s) are rethrown
Requirements
To use TAPP on your iPad, iPhone or iPod Touch, you need to have:
Internet connection on your iPad, iPad Mini, iPhone or iPod Touch
Optional
Usage of Location Services (you will get a radius bonus. Your location will be anonymized for other users)