Need an App? ...
... There's an app for that!
Wizard of Apps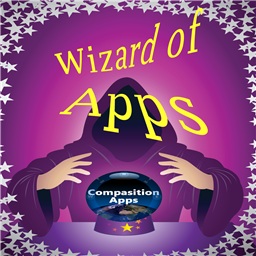 Are you searching for an app? There's an app for that:
The Wizard of Apps ...


The Wizard will not show you the most popular apps, newly released apps, free apps, or apps with price drops ... but:
Wanna impress your friends with apps they don't have? Try one of these ...
Are you looking for an app that you haven't seen a thousand times before? Ask the Wizard of Apps ...
Are you curious about the hundreds of thousands of apps besides the top 10 of most popular/downloaded/wanted apps? Let the Wizard of Apps surprise you with a selection of those ...
The Wizard will show you random apps from a big selection of reviewed apps. Ask him again and again ...
Have you developed an app yourself? This is the ultimate way to market your app. Why not start a campaign to promote your app right now?
Features
The Wizard of Apps will show you a random selection of apps, every time you ask him. He will show you funny or interesting apps for the iPhone, iPad and / or iPod touch. He will give you a selection of all kinds of apps from all kinds of categories. He will show games, entertainment apps, reference apps, lifestyle, etc. In short: The AppWizard will help you find hidden treasures of apps you didn't find yourself yet.
Are you a developer of an app, and did you see the amount of downloads drop after your app disappeared from the what's new lists? The AppWizard is an easy and low-priced way to promote your own app and get attention to it. Every user of The Wizard of Apps will see the icon of your app during the period of your advertisement campaign. If the user is wondering what's behind your icon, the Wizard will show the information from iTunes, and he or she will be directed to the appstore for downloading your app.
Requirements
To use Wizard of Apps on your iPad, iPhone or iPod Touch, you need to have:
Access to the Internet on your iPad, iPhone or iPod Touch